TaeguTec Turns Up Its Hard Machining Range
28 March 2019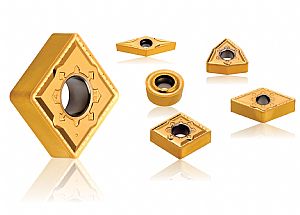 Turning heat resistant super alloys has always been a challenging prospect for the modern machine shop. However, TaeguTec is now simplifying this challenge with the arrival of a series of new insert designations that have been added to its market leading T-Turn turning series of cutting tools.

With a glossy yellow sheen, the new PVD coated TT3010 grade is characterised by its high abrasion resistance and high bonding strength that are the result of an ultra-fine substrate. The combination of this abrasion resistant, high bonding strength ultra-fine substrate and a special coated layer enables great chipping resistance to prevent built-up-edges. The new grade is suited for low depths-of-cut finishing applications.

Alongside the new TT3010 will be the new PVD coated TT3020 grade. This new insert uses an ultra-fine substrate that generates high abrasion resistance and toughness during machining. With a smooth coated layer surface manufactured through a special treatment process, the TT3020 demonstrates excellent resistance to built-up-edges. For HRSA materials, this is TaeguTec's most frequently recommended grade for the machining of scaled surfaces and light external applications in the low to medium speed range.

Both new insert grades are available with two exciting new chipbreakers, the MGS and FGS. The MGS chipbreaker is a negative press type insert with a sharp cutting edge that reduces cutting resistance and heat generation during machining. Additionally, the insert has a high rake angle that generates smooth chip evacuation while the wide top face results in improved insert seating, which promotes stability during machining.

In contrast, the FGS chip breaker is a positive ground type insert that has a sharp cutting edge to generate low cutting resistance while guaranteeing high precision machining. The chip breaker minimises heat when machining high-temperature alloys whilst a small protrusion effectively improves chip control. The new T-Turn inserts are available for a complete array of toolholders with insert designations including CNMG, DNMG, SNMG, WNMG, RCMT and VBGT.