TaeguTec Turns Attention to Small Turning Applications
9 January 2019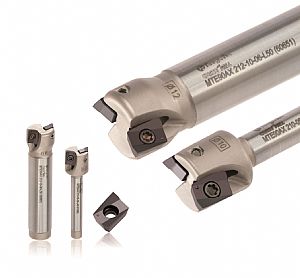 TaeguTec has now extended its tooling line for small turning centres with the launch of the new ChaseMill AXCT 06-L inserts and toolholders. With the continuing trend toward miniature product machining with the ever increasing rise of the medical and electronics sectors, TaeguTec has introduced the AXCT 06-L line of inserts and related holders specifically for these applications.

The new positive ground AXCT 06-L insert line has been designed with a high positive rake angle that is optimally designed to reduce cutting resistance, something essential for miniature machining. A further advantage of the line is its compatibility with the current line of CHASEMILL cutters. All toolholders are available in various standard sizes from 8mm up to 30mm, which reinforces the suitability of the product line for miniature machining.

The new AXCT 06-L insert line features specialised insert geometries for Swiss-type turning machines with standard tool holders available in various shank holder sizes that include ER11 and ER16 collets. Available with several corner radii from 0.02 to 0.4mm; this indexable line can replace traditional solid end mills to reduce set-up and changeover times. The inserts are available with TaeguTec's coated TT5525 grade whilst the end mill toolholders are offered with diameter options that include 8, 10, 12, 14, 15, 16, 20 and 30mm Depending upon the tool diameter selected, the ChaseMill is available with 1, 2, 3 or 5 insert seats. For more details, please contact your local TaeguTec representative.