TaeguTec Expands Chase2Mill Line
14 February 2019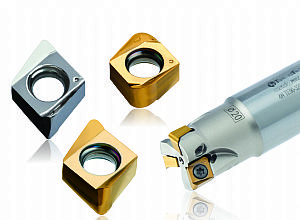 First introduced to the UK two years ago, the TaeguTec Chase2Mill series of end mill tools has earned a reputation as an impressive all-rounder for the automotive, mould & die and general subcontract machining sectors. Now, the Korean cutting tool manufacturer has extended the Chase2Mill with the arrival of two new insert designations.

Suitable for ramp and slot milling applications, the Chase2Mill is available in end mill, modular or face mill designations to deliver a perfectly rounded offering. Initially launched with a compact four corner double sided 4NKT 06 insert range with a 90⁰ entry angle that is suitable for high ramp down applications, the 4NKT 06 has now been expanded and a new 4NHT insert series has been released.

The 4NKT 06 corner R range insert has been expanded (04R-20R) to meet the wider range of corner radius requirements demanded by today's industries. This simplifies the response needed for specific corner R inserts required by products in a variety of industries such as automotive, aerospace and mould and die sectors. Adding to the existing 8 and 16mm radius inserts, TaeguTec has expanded the line to include a new 4, 12 and 20mm radius offering. The extended 4NKT 06 is available with TaeguTec's ML and M geometry with the TT8080 and TT9080 grades, which combine to improve cutting load, minimise built-up-edges and generates excellent surface finishes.

The new 4NHT 06 insert designation has also been launched with the 4NHT 06-ML that is characterised by its ability to generate low cutting loads and excellent surface finishes that are credit to the ground cutting edges that minimise built-up-edges. One further expansion to the line includes the 4NHT 06-AL. These new uncoated inserts for aluminium and non-ferrous cutting applications serve to further widen the solution range of the Chase2Mill family of products.