ROCOL SELECT – A Fluid Solution For 'ALL' Your Workshop Needs
27 April 2019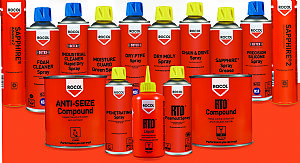 As a leading industrial lubricant specialist and part of the multi-national ITW Group, ROCOL has now introduced its exciting new ROCOL SELECT product line. The new concept offers a solution for every workshop application.

With just 15 products chosen from the ROCOL SELECT portfolio, ROCOL can provide the most suitable and effective solution for everything from machine shop cutting lubricants through to bearing grease, chain and drive spray, anti-seize and penetration compound, industrial cleaning products and general-purpose sprays for a host of engineering applications. In fact, the ROCOL SELECT range certainly has something for every engineer in every workshop.

Aside from ROCOL's unparalleled range of metalworking fluids and coolants for all material types, applications and industry sectors, the machine shop solutions in the ROCOL SELECT portfolio are from the renowned ROCOL RTD brand. The RTD Liquid, RTD Compound and RTD Foamcut Spray are perfect for subcontract workshops and toolroom applications where operators want to prolong tool life, reduce tool wear and sudden tool breakages, improve material removal rates and reduce scrap rates. The RTD Series is perfect for use on pillar drills, centre lathes, milling machines, band saws and other cutting processes where coolant is either not available or suitable. Moreover, it meets MQL strategies that businesses may employ.

Applied manually by the operator, the RTD range is proven to improve productivity by up to 400% when compared to alternate products. With five times better anti-wear protection than competitor offerings, the extreme pressure properties of the RTD series demonstrate outstanding tool protection. The RTD Compound paste can be applied to tools manually with a brush whereas the RTD Liquid is supplied in a plastic squeeze bottle and the RTD Foamcut Spray is an aerosol to directly reach the cutting edge.

The bearing greases in the ROCOL SELECT range include the SAPPHIRE 2, SAPPHIRE Advanced 2 and the SAPPHIRE Spray Grease. Suitable for lubricating and protecting bearings, slides, bushes, linkages and pins, the SAPPHIRE Spray Grease and Advance 2 Grease are multi-purpose solutions that are fortified with PTFE for a wide range of applications. The SAPPHIRE Advance 2 Grease has properties that make it more suitable for usage in high-speed applications such as fans and electric motors. The SAPPHIRE 2 Grease is a heavy-duty bearing grease to protect against corrosion in humid and damp conditions. Supporting these products is the Chain & Drive Spray that is a high-performance chain lubricant that will protect all types of chains in extreme conditions.

The anti-seize products include the copper based ROCOL ANTI-SEIZE Compound and the ROCOL Penetrating Spray. The ANTI-SEIZE Compound is a multi-purpose solution that lubricates, protects and eases assembly dismantling as well as demonstrating excellent corrosion protection. The Penetrating Spray performs as an exceptional release agent for corroded fasteners and seized components.

The cleaning products in the ROCOL SELECT Series include the Industrial Cleaner Rapid Dry Spray and Foam Cleaner. The solvent based Industrial Cleaner Rapid Dry Spray efficiently removes all grease, grime, dirt and workplace contamination whilst the water-based Foam Cleaner is perfect for cleaning surfaces as its foaming action extends contact time and removes all stubborn residues.

Completing the 15 products in the ROCOL SELECT stable are four general purpose spray cans that include Dry Moly Spray, Precision Silicone Spray, DRY PTFE Spray and Moisture Guard Spray Green/Clear. The characteristics of the general-purpose products include anti-stick long-life lubrication through to dry film coatings for wear resistance and lubrication.
The experts at ROCOL have announced the arrival of this new ROCOL SELECT portfolio to demonstrate the expansive range of solutions available for general workshop, factory floor and general mechanical engineering applications. So, whether you're cutting, cleaning, lubricating, de-greasing or looking for anti-seizure or corrosion protection, the new ROCOL SELECT family has the solution for your needs.