ITC Increases Productivity for Automotive Subcontractor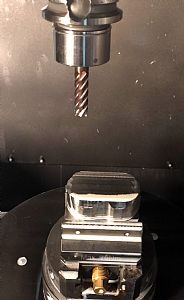 Leading Scottish subcontract manufacturer, Euro Precision Ltd has now specified cutting tools from Industrial Tooling Corporation (ITC) to improve productivity on a range of automotive components. The Glenrothes subcontract engineering company has build its reputation upon manufacturing critical precision components & assemblies to exacting quality standards for the aerospace, automotive, medical, telecommunications petrochemical and electronics sectors.

The diverse customer base has been established over a 25 year history, and from its 30,000sq/ft factory, the company boasts clients such as Siemens Healthcare, Glenair, Leonardo, Zeiss and AMG Petronas as a small selection. With a customer base that any subcontract business would be proud of, Euro Precision has established a reputation for the production of high quality workmanship, inspired innovation, cost effective solutions and customer service.

The Fife Company recently undertook a project for Mercedes HPP (high performance powertrain) that required programming and tooling efficiencies and improvements for the machining of a series of engine components. The complex outlet manifolds and valve waste assembly are manufactured from inconel 625 on Euro Precision's high-spec Matsuura MAM-72 5-axis multi pallet machining centre. Manufactured for the next generation of supercar, the Mercedes HPP project requires over 2700 manifold outlets and 2000 valve waste assemblies. With such production volumes, it was critical for Euro Precision Ltd to get the process running efficiently as possible and this is where ITC entered the fray.

Commenting upon the situation, Euro Precision Engineering Manager, Mr Grant Steele says: "We required a stable process that could achieve the shortest possible cycle time while returning good size control and cost effective tooling solutions. I already tooled the part up with another manufacturer and because material was inconel 625, I was expecting to take a hit on slower machining times and poor tool life. However, based on production requirements and the project time frame, I couldn't live with current method."

"I discussed the situation with Gary Heaney from ITC. Gary has been a regular supplier of high-quality aluminium cutting tools to Euro Precision for many years. Down the years, Gary has successfully supported us on many machining projects to reduce cycle times, tooling costs and improve our machining performance and consistency. With his experience of supplying tooling to the aerospace engine sector that is primarily cutting high-temperature alloys, Gary seemed the obvious go-to person," says Mr Steele.

"Gary immediately doubled the surface speed by introducing ITC's Cyber Series of multi-flute variable helix end mills and a trochoidal machining strategy at a 3XD axial depth of cut with a 4% radial step over and a high feed per tooth. The outcome was outstanding," says Mr Steele.

"With some subtle programme changes, we instigated a trochoidal machining strategy that increased the step over and radial engagement with the application of ITC's 12mm diameter solid carbide Cyber Series. This reduced the cycle time by 50% and increased tool life by 3 times."

By implementing a machining strategy that incorporated a 3XD axial depth of cut instead of the previous 1.5XD strategy, Euro Precision was able to conduct most of the rough machining in a single pass. The machining parameters far exceeded the realms of possibility for the previous tools supplied by a prominent international tooling vendor. The performance of the ITC Cyber Series and its ability to prolong machining on such a challenging material led to further ITC solid carbide end mill introductions to the prestigious project.

As Mr Steele recalls: "Following the success of the roughing tools, I asked Gary to look at the entire part. He subsequently supplied a range of radii corner tools and micro ball end mills that have performed first time, every time. We are now machining another high-performance engine component and ITC's Cyber tooling is again producing the goods."

"ITC's Gary Heaney certainly hasn't rested on his laurels. He is always looking at continuous improvement and we are already testing new indexable tooling solutions from ITC business partner Widia," says Mr Steele.

The Scottish manufacturing success story at Euro Precision is built upon the foundation of high-specification machine tools like the two Matsuura MAM72 5-axis machining centres. The Matsuura machines incorporate the BIG KAISER face and taper dual contact spindle interface, which is the only genuine face and taper contact system on the market. To benefit from the performance, rigidity and precision of the BIG KAISER face and taper system that guarantees run-out of 1 micron at the nose and 3 microns at 4xD, Euro Precision has installed a complete range of BIG KAISER precision collet and chuck systems that are available from ITC.

The stability of the Matsuura spindle configuration and the BIG KAISER face and taper interface has enabled ITC to introduce a variety of high-performance tooling solutions. This has included a complete suite of 5 and 6 flute VariMill end mills as well as indexable face and shoulder milling tools from Widia with both rough and finish machining insert designations. The solid and robust machining platform has enabled ITC's Gary Heaney to utilise both the ITC and Widia tools to full effect. The results have been a revelation to the Fife manufacturer, which has also implemented Widia indexable drilling and turning as well as solid carbide drilling to great success following the results on the Mercedes inconel project.