ITC Faces Milling Challenges With New Widia Series
19 May 2019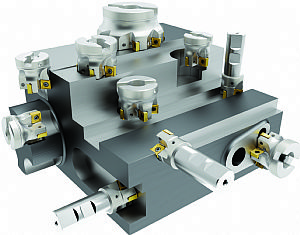 Extending its impressive milling portfolio, Industrial Tooling Corporation (ITC) has now introduced the new VSM890-12 face and shoulder milling series from Widia. The new VSM890-12 is hailed as one of the very few 8-edged double sided milling lines with genuine 90 degree milling.

The new high-performance milling line generates superior metal removal rates on a complete range of materials when conducting face, shoulder, Z-axis plunging and contour plunging and 100% radial engagement slotting. This operational diversity is credit to the availability of a course, medium or fine pitch insert density that corresponds with a new pocket seat design that enhances stability and rigidity during roughing applications.

The new VSM890 series is available with a 32mm diameter Weldon end mill configuration whilst the shell mill tool bodies are available in diameters from 40mm up to 250mm with a cartridge face mill providing a 315mm diameter. Each tool diameter is offered with a course, medium and fine pitch variant whereby the course pitch tool bodies are the optimal choice for low spindle power machines that may have an unstable set-up. For machine shops that have reasonably robust set-ups and spindle power, the medium pitch tool body is the tool of choice whilst operators with heavy duty machine tools with high spindle power capable of running at extremely high feeds will find the fine pitch VSM890 the optimal solution.

The 12mm insert designation is available with eight of Widia's premium insert grades that can effectively conduct high material removal on materials from aluminium, steel, stainless, cast iron, titanium and high temperature alloys. To outperform competitor products, Widia has introduced three insert geometries to the WSM890 series. The ALP geometry is the first choice for non-ferrous materials whereas the ML geometry impresses on stainless, light machining and finishing applications. The MM geometry is the preferred option for the machining of steel, cast iron and high temperature alloys.

The most impressive feature of the WSM890 is its true 90 degree cutting for wall and step milling with unprecedented precision and surface finishes. With an integrated wiper facet and super positive rake design on the inserts, the VSM890 generates exceptional surface finishes and an efficient and smooth cutting action for low-powered machines. Furthermore, with 8-edged inserts, ITC can offer an extremely cost-effective milling solution with productivity levels that will exceed existing tools.