Combined quick change lathe chuck and jaw provide maximum turning flexibility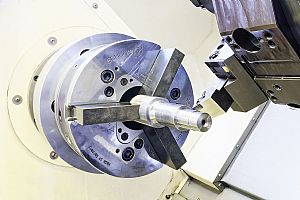 Tooling specialist LMT Fette has drastically reduced set-up times by converting a universal lathe into a solution that improves productivity with SCHUNK chuck jaw and chuck quick-change technologies.

When Thomas Frankenberger, machine operator at LMT Fette Werkzeugtechnik GmbH & Co, recalls the strength it took to change lathe chucks in the past: "Exact positioning was always an art when you had a 500mm lathe chuck of 220 kg." Even with two people, it was a challenge to screw the lathe chuck onto the fine-threaded draw tube. Forcing the screw would ruin the thread, and that would spell big trouble. In extreme cases, the draw tube would have to be elaborately re-machined with the thread restorer. "In the past, every time you changed the chuck it would require time, manpower, experience and physical strength. "It used to take 45 to 60 minutes and now it takes just 15 minutes to do a complete chuck change with only one operator, including all secondary tasks such as cleaning, oiling and storing the second lathe chuck.

Instead of using multiple fastening screws, the patented SCHUNK ROTA FSW is process reliably released and locked with a single clamping screw. Using a flexible adapter, the draw tube of the lathe can be automatically connected to the lathe chuck and centered with great precision due to a patented flexible taper. A patented dual stroke system ensures enormous pull-down forces, an optimum flat work surface and maximum rigidity in the connection.

Moreover, the ROTA FSW reduces the need for cleaning and the risk of overlooked chips or dirt particles. The chuck quick-change system is available in three sizes for lathe chuck diameters of 260, 315 to 400 mm, or 400 to 630mm. It can be used for retrofitting almost every lathe. Due to its large through-hole, modern turning centers can also be equipped with the SCHUNK ROTA FSW. Already existing clamping devices can be adapted to the system with little effort, and can be used repeatedly.